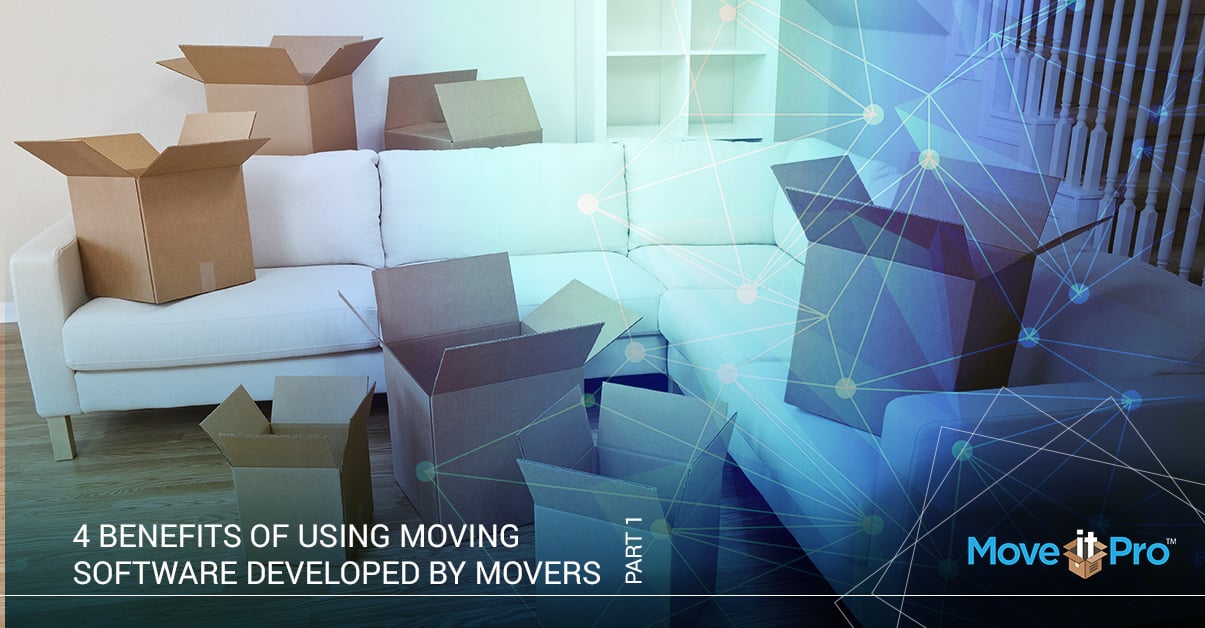 Welcome back to the MoveitPro™ blog! Running a moving company is complex and multifaceted. Aside from simply moving a person's or business's belongings from point A to point B, there are also the behind-the-scenes tasks that must be organized, managed, and completed in order for a moving company to be successful and continue to grow. From providing moving estimates, scheduling moving crews, and overseeing fleet operations, to tracking a company's overall performance, maintaining excellent communication with employees and clients, and resolving human resources issues, there are many moving pieces that must be managed efficiently in order for a moving company to be successful in every aspect of the business. While there are many software platforms available for moving companies, not all were created equal. Some may provide business owners with
some
useful features, yet not all software programs were developed and built
by
movers
for
movers.

Unlike most software platforms, MoveitPro was developed by experts in the moving and storage industry with over 50 years of experience under our belt. We know the ins and outs of how to successfully manage a moving company while continuing to grow a business, and we can now share our tricks of the trade with other moving companies worldwide. Below are some of the outstanding benefits moving companies like yours may gain from using a comprehensive, cloud-based software platform built for professional movers by professional movers.
EFFICIENT COMMUNICATION
As one of Orlando's top-rated moving companies for over 50 years, we know that communication is of the utmost importance. Managing a successful moving company revolves around communication with both employees and clients. MoveitPro software has essential features that make communicating across the board easy and direct. Our software enables you to maintain constant communication with your employees via SMS messaging, and you can also use this feature to communicate back and forth with your customers. We have also incorporated social media platforms like Facebook as an additional layer for communication. Along with email communication, we have added a live chat feature that can be easily implemented into your website.
OPTIMIZED SCHEDULING
One thing we learned in our early years of running a moving company is that efficient scheduling is what makes all the moving pieces fit into place. We have designed our software to streamline all aspects of scheduling a move, from job, resource, crew, and fleet scheduling, to giving the customer the ability to book their own move. We have made it simple for business owners and managers to combine Google, Outlook, and Apple Calendars on one platform to make scheduling as straightforward as possible. Whether you want to schedule a meeting or event with your employees or need to schedule a box delivery or in-home survey, we have built our platform to handle all of your scheduling needs.

ACCURATE ESTIMATES
One of the most important aspects of not only maintaining a solid customer base, but also continuing to grow your business, is providing residents and businesses with accurate estimates for your moving services. As we developed MoveitPro, we were determined to make this aspect of running a moving company as sleek and as accurate as possible. Rather than having to keep track of messy paper estimates, notebooks, and pens when your team is providing an on-site estimate, they can simply upload their data directly into the platform using an iPad, iPhone, or Android, which is then securely stored. The MoveitPro software allows you to provide potential and existing customers with accurate quotes that have calculated time, mileage, cuft, and weight. Customers can then access, accept, or decline the estimate via the customer portal, email, live chat, or Facebook. Customers can e-sign their estimate and any other documents or disclaimers to make the process quick and easy. Customers can even receive updates and messages about their estimate via SMS messaging. What's more, the collected data is stored in a way that allows the MoveitPro software to track and utilize the data for projected sales, effective advertising, and automated estimates.
TRACK SALES
If there is one thing we have learned in our years as one of Orlando's top moving companies, it is that paper sales reports are a lot to keep track of and store. However, it is essential to any moving company to maintain excellent sales reports and analytics to manage a successful business. This is why we eliminated the paper method in favor of a more reliable, efficient, and easy-to-access method. MoveitPro makes it simple to track and import leads, while also tracking valuable sales data, lead reports, payroll reports, and more, on one comprehensive platform. This allows you to effectively track and manage your sales so you can see areas of success and areas that need improvement. As a result, business owners and managers can spend less time searching through stacks of file cabinets to find the sales data they need and more time on devising ways to improve and grow their moving company.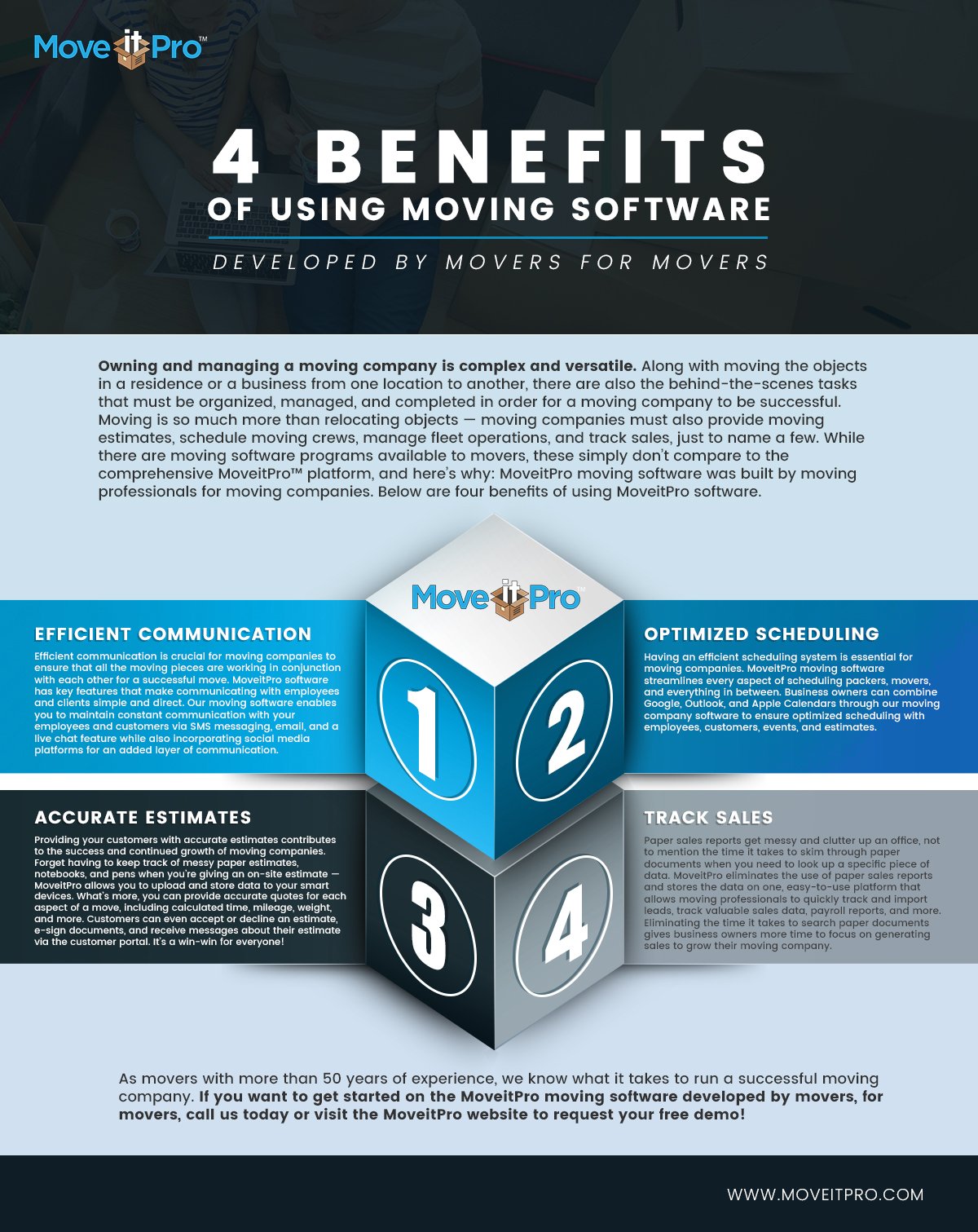 GET STARTED TODAY!
As movers ourselves, we know what it takes to run a successful moving business. During our decades of thriving in the moving and storage industry, we have learned what works and what doesn't, which is why we developed MoveitPro. Our goal is to help other moving companies streamline each and every aspect of running and managing their business to be as successful as possible. Visit MoveitPro today for a free demo, and join thousands of others who utilize our easy-to-use, comprehensive moving company software to effectively manage and grow their business.
Tune in next time for part two as we continue looking at more amazing benefits of using software for moving companies that was developed and built by professional movers. Thanks for reading!
Find more important details on why Moving Software is so important here.