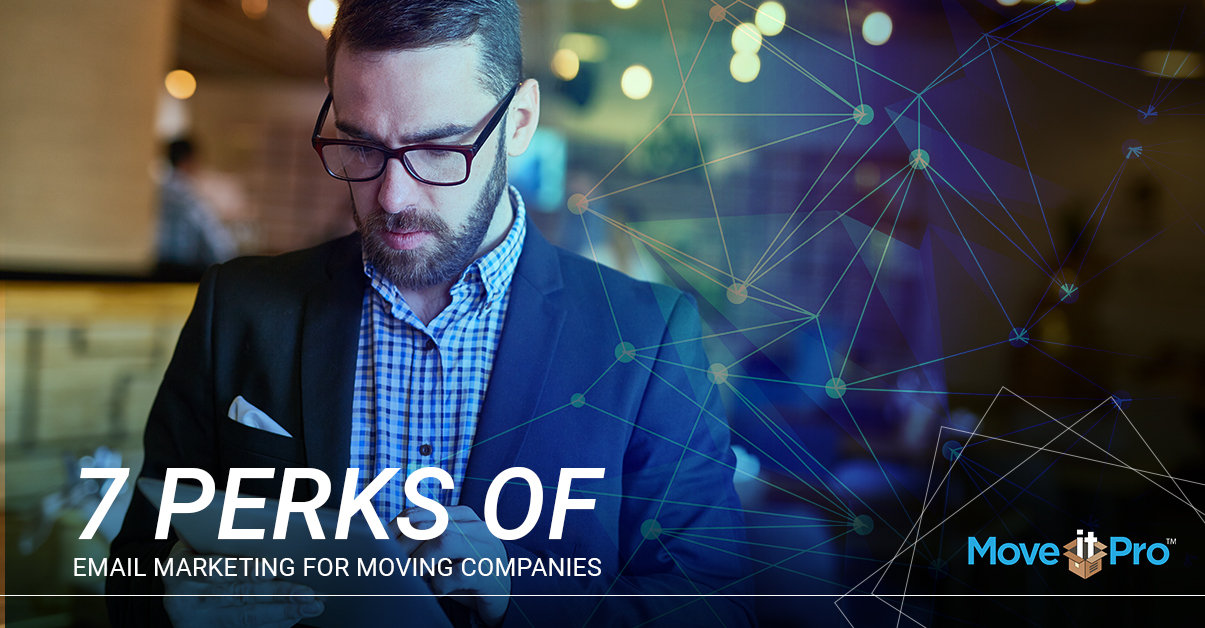 Email marketing offers many valuable benefits for moving companies and other small businesses in the moving and storage industry. Email marketing is a marketing tool that can help businesses grow by promoting a service to a wide range of individuals and businesses. Reaching out to past, current, and potential customers via email is an excellent way to build a relationship with them. This form of internet marketing is increasingly valuable in the Digital Age, because messages can be tailored to a specific demographic and target market, sent electronically, which increases the likelihood that the message will reach your intended audience.
Email marketing offers invaluable advantages for large and small moving companies, and MoveitPro™ can help you implement this type of marketing into your business management strategy. Visit MoveitPro, the fastest growing moving company software in the U.S. and Canada, to get a free demo and see what email marketing — and the other features we offer — can do for you moving business. In the meantime, here are a few perks that email marketing can offer your business.
SEVEN PERKS OF EMAIL MARKETING FOR YOUR MOVING COMPANY
GENERATE MORE QUALIFIED LEADS
One of the best perks of email marketing is that you can reach potential customers who may be interesting in your moving services. These marketing campaigns encourage visitors to sign up for your email list. Additionally, you can offer perks for email subscribers to send along your emails to others, such as coworkers, friends, family members, and business owners in their network. The goal is to find potential customers who have a valid form of communication, thereby improving the quality of your leads.
MEET CUSTOMERS WHERE THEY ARE
Gone are the days of sending advertisements by mail. Having a quality lead means you can meet potential customers where they are. Aside from the fact that nearly everyone carries a cell phone these days, people are connected in some way to their email, rather it be through personal use, school, or work. This means that you can communicate more effectively with people where they are, whether it's at home, on the go, at work, or anywhere they can access their email.
Using MoveitPro™ Moving Software, you can set up automated email campaigns, personalized emails, and you can track opened emails to see how people are responding to your campaign. It's all about making connections, building relationships, and telling people about why they need your moving services.
KEEP YOUR CUSTOMERS UP-TO-DATE
One of the greatest perks of email marketing is that you can consistently update the content you send out. This means you can keep your past, current, and potential customers updated on your moving services, changes to your existing services, new services you're offering, seasonal specials, and so much more! People love staying "in-the-know" and email marketing is an excellent tool for keeping them up-to-date on your moving solutions.
REWARD LOYAL CUSTOMERS
Email marketing also allows moving businesses to reward their loyal customer with perks they can get and use instantly. You can reward past and current customers with discounts on future services. You can also reward them with discounts for moving and storage services when they refer others to your company. With email marketing, you don't have to worry about the rewards getting lost in the mail or accidentally thrown away.
REDUCED MARKETING COSTS
We've already mentioned that you can use the email marketing feature on MoveitPro to generate automated email campaigns, but what we didn't mention is that this can also save you on marketing costs. Additionally, each email marketing feature included in our moving software — such as custom graphical emails, personalized emails, prospect nurturing, email opened tracking, and MailChimp integration — means you don't have to pay someone to handle these tasks for you. Our easy-to-use program is intuitive, streamlined, and compatible with several of the other features offered on our platform.
STAY FRESH IN THEIR MIND
When you start an email campaign, you can rest assured knowing that your audience will get the emails. What's more, emailing customers keeps your business fresh in their minds, which increases the chances that they will use your moving services again and will be more likely to refer your company to someone else.

INCREASED CHANCE OF GETTING CUSTOMER REVIEWS
As part of your email campaign to past and current clients with news and updates about your services, you can include a snippet that asks them to review or rate their experience. Chances are, they will. When you have ratings and reviews, you can track them with MoveitPro, use the data to determine your successes and shortcomings, and share them on a variety of outlets (even in email campaigns), which can generate more leads, and ultimately more business.
Even bad reviews are valuable because they can point out areas that need improvement, such as staffing and moving crew weaknesses that need to be addressed, timeliness issues, and more, all of which can help you and your team become more determined to be a better company. As we mentioned in our last article, 4 Hints For Boosting Your Moving Company's Ratings, Part 1, positive reviews, testimonials, and ratings can positively impact the growth and success of your moving company, allowing you to book more jobs and developing an A+ reputation.
HOW CAN MOVEITPRO™ MOVING SOFTWARE HELP?
When you use our all-in-one moving company software, you get access to all the perks of email marketing built right into the platform. As with all the MoveitPro features, the email marketing tool is highly intuitive and offers immense value for your moving company. All of the perks of email marketing we discussed in today's post can be easily implemented into your business management plan to grow your business, generate great ratings and reviews, and lead to the overall success of your moving company. Take it from us — we're movers ourselves! If you're ready to take your moving company to soaring heights, contact MoveitPro to learn more about all the features our moving software offers, and to request a free demo of our software. Find out what MoveitPro can do for your business.
Find more important details on why Moving Software is so important here.