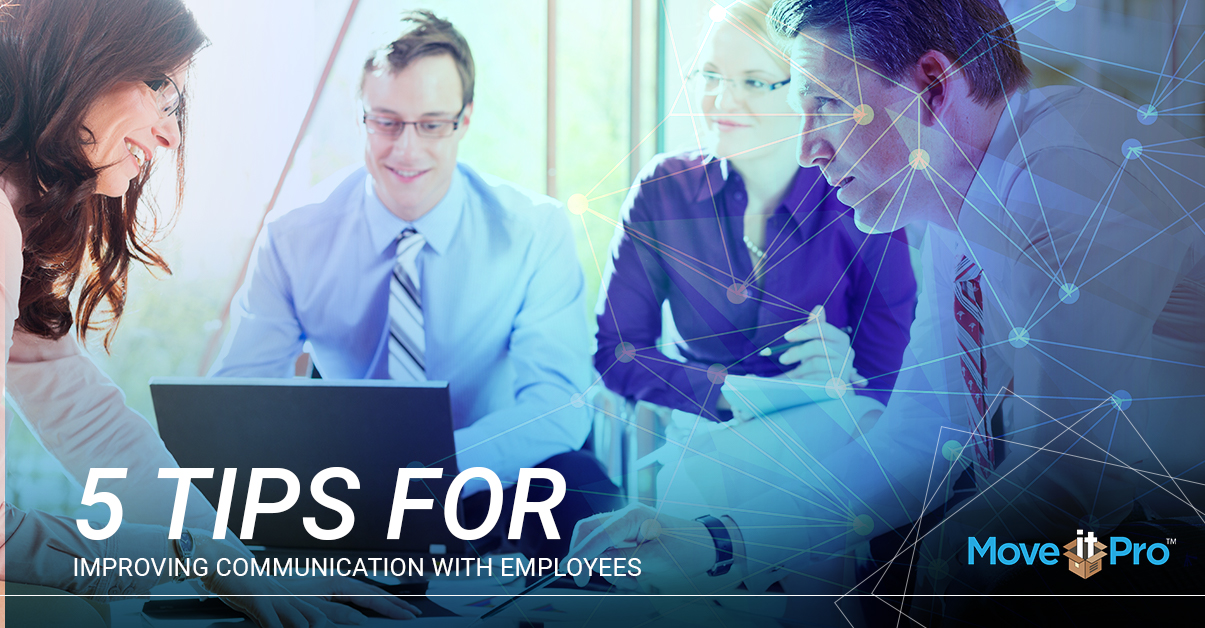 Every aspect of the moving industry relies on maintaining open lines of communication. Just like with any business, when there's an issue with communication, it can impact productivity, scheduling, booking moving jobs, coordinating moves, and ultimately — the overall success of your company. The moving experts at MoveitPro™ have some helpful hints to share with you so that you can improve communication with your employees and they can communicate better with you. As the fastest growing moving software in the U.S. and Canada, built for movers, by movers, we have developed features that allow for better, instant, and constant communication. Visit MoveitPro to learn more about these features, and request a free software demo today. In the meantime, here are tips from successful movers for enhancing communication within your moving company.
5 TIPS FOR IMPROVING COMMUNICATION WITH YOUR EMPLOYEES
BE APPROACHABLE
As a business owner or manager who is actively involved in the day-to-day happenings in your moving company, it is essential to be approachable to your employees at each and every level. This allows people to feel more open and honest when they want to share ideas with you, address their concerns, and share their successes. What's more, you need to be accessible to communicate with your employees on a regular basis. Be responsive to emails, messages, and feedback to show that you are more than just the business owner and/or manager, but that you are invested in your employees as well as your business. After all, your employees are your biggest asset. A happy team that can communicate had a better chance at succeeding than one that doesn't.
HOST REGULAR TEAM MEETINGS
One way to open the lines of communication between you, your managers, your project managers, and your moving crews, is to hold regular company meetings. This might mean that you meet as a company once a month, and as smaller teams or departments weekly or biweekly. This gives everyone a chance to hear from you while also sharing news, updates, success stories and expressing their concerns. Hosting meetings that you, the business owner/manager, can be a part of is a great way to keep everyone in the loop on what's going on with your company. Remember, knowledge is power.
Offer Messenger Chat
As far as a solid means of communication goes, messenger chat is an invaluable tool that allows the lines of communication to remain open and accessible at all levels of your business. There are many chat platforms to choose from, but not all are created equally. When you implement MoveitPro™ moving software as a comprehensive software that offers hundreds of features, messenger chat is a built-in feature. It's intuitive, easy to set up, and can significantly improve communication within your moving company. Whether you own a small operation with a handful of people or have a large-scale moving company with offices located in different cities or states, the messenger chat feature keeps people connected.
USE SMS MESSAGING
SMS (short message service) messaging is a component of cell phone and internet communication. In plainer terms, it is text messaging with a fancy name. Utilizing a text messaging feature is ideal for moving companies where there are many people involved and employees working off-site on moves. SMS messaging is a standard feature included with MoveitPro moving software, allowing everyone in your company to stay connected whether they're in the office or out on a job. This is a great way to communicate quickly with more than one person, which can alert moving crews of changes to a job, emergencies, and more. Plus, fleets can communicate with each other and with their project manager easily while out on a job. This can be incredibly helpful in the case of a breakdown while on moving job, for instance. There are so many benefits to implementing SMS messaging into your moving company's communication system.
UTILIZE AN ACCESSIBLE, ONLINE OFFICE CALENDAR
Relying on old-school calendars as a form of communication is not nearly as efficient as having an online office calendar for your moving company, especially when you have more than a handful of employees. Having an efficient, online calendar can keep all the moving pieces of your business in line and on task. Plus, this is a great way for employees to know exactly when and where they need to be for meetings, on-site estimates, fleet repairs, and so much more. MoveitPro offers an office calendar system designed specifically for moving companies. It combines different scheduling abilities while also syncing popular calendar features on Google, Outlook, and Apple. Visit MoveitPro Features to learn more!
HAVE AN EFFECTIVE SCHEDULING SYSTEM
Everything in the moving industry revolves around scheduling. In order for a moving company to be successful, scheduling moves, in-person meetings, on-site estimates, fleet repairs, and more, all need to be seamlessly communicated. The success of a moving company depends on it. Like our office calendar feature, MoveitPro offers a reliable scheduling system that keeps you and your employees connected. Our moving software feature can facilitate communication when it comes to resource, crew, fleet, and job scheduling, keeping everyone to task.
DISCOVER WHAT OUR MOVING SOFTWARE CAN DO FOR YOU
Having access to all these features can seem incredibly costly and feel like a lot of work to implement, but the truth is, it's much easier than you think. MoveitPro™ moving company software was developed by movers, for movers, with the sole intention of helping moving companies just like yours succeed at all levels. As movers ourselves, we operate a thriving, multi-billion dollar moving company that has become so successful, in part, because of our ability to communicate exceptionally well with our managers, moving crews, customer service teams, and everyone who contributes to the favorable outcome of our business.
In our more than 50 years in the business, we have learned that maintaining accessible, open lines of communication is of the utmost importance in the moving industry. That's why we have created an all-in-one platform that enhances communication abilities by combining a wide range of features. Visit MoveitPro now to get your free software demo and discover what our moving software can do for your moving business!